From :Topics
NOTE: THIS PAGE HAS SOME MISSING INFORMATION!
Paul's Tips
Edit
4 Tips for using Pushers and Blockers in Infinifactory:

- Attaching Blocks to Pushers

- Attaching Blocks to Blockers

- A basic AND gate using 2 sensors

- The Double Push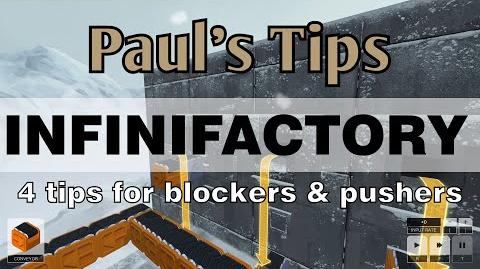 General Building tips
Edit
ADD INFORMATION HERE!!
---
Optimizing for low cycle count (speed)
Edit
You can press left or right bracket "[ ]" to increase or decrease the number of blocks that come out per second.
Try not to use a crazy amount of conveyors, and try to keep the distance between steps of building short.
---
Optimizing for low footprint count (overview size)
Edit
Remember, footprint is how many blocks from overhead, so a stack of platforms will only add one to the footprint. Also keep in mind that a huge welded structure will make all blocks, including air, that it passes over count toward the footprint.
Put conduits over conveyor tracks.
You can press "p" to see all the blocks that count toward your footprint.
---
Optimizing for low block count (size)
Edit
Platforms do not count towards the block count.
If a string or block of blocks has been welded together, then it is possible to remove every other or every third, etc. conveyor belt and the blocks will keep going.
---
From :Topics
Ad blocker interference detected!
Wikia is a free-to-use site that makes money from advertising. We have a modified experience for viewers using ad blockers

Wikia is not accessible if you've made further modifications. Remove the custom ad blocker rule(s) and the page will load as expected.